Delmer (Ray) Franklin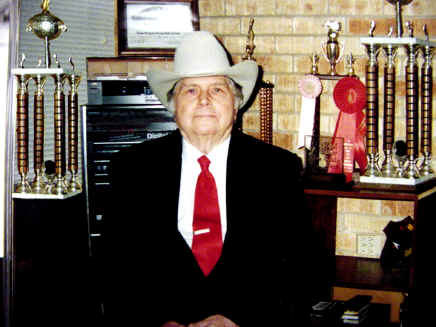 Born August 16th, 1932 to Major Lee and Thelma Inez Franklin in Shamrock Texas. He was raised in Denison Texas and started playing music with his dad (Major Franklin) at the very young age of five or six. His first instrument was the tenor banjo and later became proficient in bass and guitar. In January of 1949 Ray entered the United States Air Force and in 1950 –1951 he was stationed in Korea. During his years in the service he was stationed at Lackland Air Force Base and 1966 married Geraldine (Geri) Whitehead.
In 1968 Ray was sent to Vietnam to serve and was awarded the Bronze Star in 1969. After twenty years of military service he retired in 1969 and settled in the San Antonio area. Upon his retirement he decided to go into automobile business and was and was a dealer until 1994.
During Ray's service years, he played with several local bands around San Antonio Texas. In 1983 Ray started playing bass with the "Texas Top Hands" Western Swing band, whose bandleader is Ray Sezpanic. In 1992 The "Texas Top Hands" band was inducted into the Western Swing Hall of Fame in Austin Texas.
Ray has been a champion guitarist at many major contests and has won several major tittles. His list of accomplishments includes: 1st PlaceTexas State Fiddlers' Frolics
1st Place Texas Old Time Fiddlers Association Championship
1st Place Crockett World Champion
1st Place Red River Fiddle Fest
He has played with many famous fiddlers over the years and is always ready to play for a novice fiddler as well as a champion. He has been an undeniable asset both on and off stage for Texas Fiddling and anyone who has had the pleasure of his accompaniment.
Ray and Geri's son Daniel Wayne (Dan) and his wife Alice have two children they are Daniel Jr., now twenty-one and Jessica, who is twelve years of age. Daniel Jr. and Jessica are Ray and Geri's grand children.