Inducted 1985
A. R. WESTMORELAND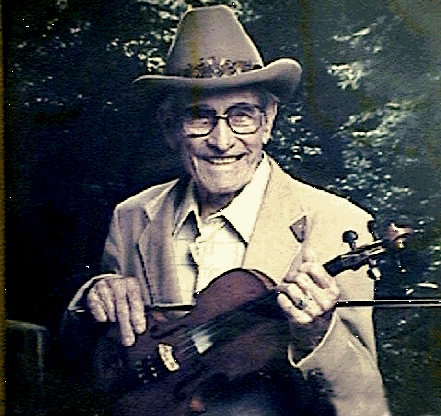 A. R. (Ausy Rufus) Westmoreland was born to John Christfer and Lovie Kathryn Munn Westmoreland on June 2, 1895 on a farm near Gorman, Texas. He was the fourth son and grew up in a family of fiddlers; his father, three brothers and two sisters all playing the fiddle. His father took him to many country dances where he also performed.
On June 12, 1915 Ausy and Ambry Melba McCleskey were married and after the death of his father, settled near his mother at Rule, Texas. His profession was paper hanging and painting, with fiddling for dances a second occupation. In 1929, Ausy decided to help his widowed sister run her ranch near Paducah, Texas. In 1936 he moved his family to Houston, Texas. For several years he spent his entire efforts to his paper-hanging and painting; but in the 60's after hearing a contest in Crockett, Texas, started fiddling again and became quite successful--winning many first places.
Mrs. Westmoreland passed away in July 1983. Since then he entertains himself by playing the fiddle--sometimes to the distress of his companion, "Chico"--a brute of a canine weighing at least 32ounces.
He has one sister, Mrs. Lona Richards of Paducah, Texas, two sons, Dr. Jack Westmoreland, Houston, Texas and James Westmoreland, San Antonio, Texas. A third son, Travis, passed away in 1984. He also has 9 grandchildren ranging in ages 3 years to 40 years, and 3 great grandchildren.