Inducted 1990

HARVEY R. NORRIS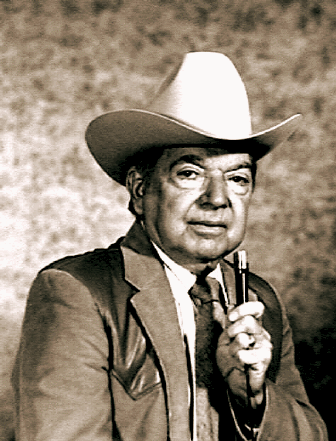 Born May 29, 1925 in Milano, Texas, Harvey R. Norris was heavily influenced by fiddle music as a child, but he never learned to play. The son of Jeff and Edna Norris, he recalled his paternal grandfather and other families fiddle players performing on a host of instruments and remembered from his early childhood house dances, including all night dances at his home once or twice each year.
During World War II Harvey served in the Army Medical Corps as a surgical technician aboard a hospital ship, and entertained in USO's while stationed stateside and aboard ship in England, France, Panama, Hawaii, the Philippines, Okinawa, Bataan, Corregedor, Japan and Korea.
His interest in fiddle music was rekindled through a weeklong Western celebration in Marlin in 1962 when he hired Johnny Gimble for a street dance. Gimble has since twice been named instrumentalist of the year in the 1980's.
In 1964 and 1965, Norris produced a White Settlement Jamboree, sponsored by the bank where he was vice president. He was hired as a bookkeeper at First State Bank of Marlin and 23 years later, with 12 of those years at First State, he retired as president of a bank in Bowie.
Norris met his wife Jacquelyn when she performed with a country-western band on his show. Harvey's engagements as master of ceremonies or performer include the Fiddlers Festival international in Fort Worth, KLMW (Marlin) fiddle contest and live show, KENR radio in Houston, the Grapevine Opry at Water Gardens in Fort Worth and as emcee and moderator of the Texas Old Time Fiddlers Association. For the past 14 years he's been emcee at the Texas State Championship Fiddlers Frolics in Halletts'tille, and was named in 1989 the "Voice of the Frolics,"
Norris has introduced the youngest fiddler, a three-year-old; Uncle Eck Robinson, fiddler, composer and granddaddy of oldtime fiddlers in Texas, the Hon. Carl Albert, Speaker of the United States House of Representatives in 1971, and a host of old time fiddlers of fame.
He's met or introduced such stars as Johnny Gimble, Red Foley, Dolly Parton, Loretta Lynn, Porter Waggoner, Little Jimmy Dickens, Farron Young, Ernest Tubbs the Wilburn Brothers, Teddy and Doyle, Mel Tillis, Jean Sheppard, Leon Rausch, Shoji Tabuchi and Fiddlin' Frenchie Burke.
"For any talent I possess;' Norris said, "I give praise to my Lord and Savior, Jesus Christ."