Inducted 1990 LOUIS FRANKLIN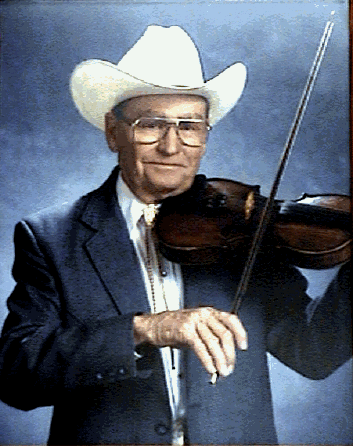 Fiddling goes a long way - back in the Franklin Family. Louis' grandfather, an old-time fiddler, taught Louis his first tunes, "Sheep and Goat Going to the Pasture" and "Buck Creek Ladies." Louis remembers that his grandfather was a pretty old man and about to quit playing, but he pestered him to continue, and never gave him a minute's peace after that. Louis first learned a tune, and then with his help, experimented until he could play it. Louis had an uncle, Major Franklin, also a well-known fiddler, who was inducted into the Texas Fiddlers' Hall of Fame in 1979.
Louis Franklin is the only son in a family of eight children of the late Amy and Jess Franklin. He was born in Windom,-Texas, January 15, 1923 and grew up on the farm. His dad made little toy fiddles out of cornstalks for his children and grandchildren. While growing up, Louis played on a $ 4.75 Sears & Roebuck guitar with Major and his family. He got his first fiddle for $ 5.00 at the age of 14 and entered his first contest in Sherman, Texas when he was 13. He graduated from Bells High School and married Louise Genthe in 1942. Four years later while serving in the Army of Occupation in Japan, he played in a band. When he returned home, Louis and his family settled in Denison, Texas. He played on Denison-Sherman radio and made personal appearances with Eddie Miller and the Oklahomans, but after a year "on the road", Louis returned to farm life. Louis moved his family to the farm at Whitewright, Texas where he and Louise still reside. They have five children: Donna Lotimer, Leonard, Texas; Anna Holcomb, Ft. Worth, Texas; fiddler Larry Franklin, Austin, Texas; Kenneth Franklin, Whitewright, Texas and Debbie Andrew, Whitewright, Texas. They have nine grandchildren and one great granddaughter - -ranging in ages of 3 to 26 years old.
Throughout the years Louis has enjoyed many fiddle sessions playing with Norman and Vernon Solomon, Benny Thomasson, Sleepy Johnson, to name a few. He plays all types of music - one as well as another, but when he plays a rag, "somebody's got to dance". His reputation as one of the best fiddlers is well deserved. He served on the initial Board of Directors of the Texas Old-Time Fiddlers' Association, and has won many contests, prizes and trophies. He won the World Championship Fiddlers' Contest at Crockett, Texas for the third consecutive year in 1973 - making him one of four fiddlers to have accomplished this in the 53 years that the contest has been in existence since 1936. He also won the Texas State Fiddlers' Frolics Championship in Hallettsville, Texas in 1974.
Louis Franklin has had a tremendous influence on the younger generation of fiddlers-both in style of playing and rapport.