Inducted 1990

Velda Ross Fryer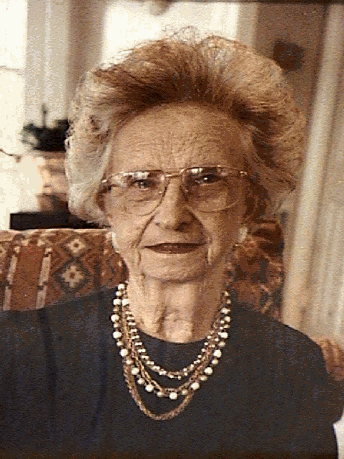 For forty-seven years she has been a wife and mother, and now grandmother, but for all of her life Velda Fryer has done whatever she could to make life better for those she cares about.
She was born Velda Jane Ross in McCune, Kansas in 1912, the only daughter of four children born to Earl and Olive Ross. Her mother died when she was a child, and Velda grew up taking care of her three brothers and her father. As an adult she very naturally became a schoolteacher, but eventually left the family farm to work in the State Treasurer's Office in Topeka, Kansas and later for Cessna Aircraft in Wichita. It was on a blind date in 1941 that she met a young serviceman Clifford Fryer.
They were married in 1943, but spent only three days together before he was ordered to Europe for the remainder of World War II. After the war, the couple finally settled in St. Louis, Missouri, and it's there that their two children, John Stuart and Shara Michelle, were born. The family moved to Hallettsville, Texas in 1962, the beginning of their personal involvement with Texas fiddling. For Velda and Cliff, attending fiddling contests across the state became more than a hobby. It was a way of life to pack their bags and head out for a weekend of fiddle music.
They developed fiddling friends who became more like family .Velda always doting on the youngsters, many who grew up to be State and World Champions. But for all the young ones there are always praise and hugs from Velda. And in return they play waltzes that she loves so well. When the Texas State Championship Fiddlers' Frolics began in 1971, Velda was in the thick of the planning and work for putting on a major contest. For more than a decade, it became a tradition for the fiddlers to wind up at the Fryer house for a jam session on the Saturday night of the contest. Velda would feed tens of dozens and make sure everyone had a place to sleep, though the fiddling usually went on all night. Texas fiddlers know that the door is always open in the Fryer house and Velda will treat you like one of her own. She shrugs off any rewards for her efforts over the years, saying, only, that it's kept her young. We would say young in spirit and full of heart for the people, the children and the tradition of Texas fiddling.
April 1990